Defender 75th Limited Edition Miami FL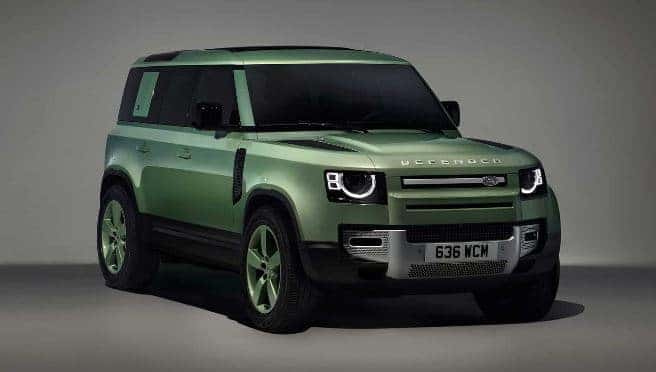 Defender 75th Limited Edition Miami FL
Buy a Land Rover Defender near me
It's celebrations all around when it comes to Land Rover, especially as the Defender is getting ready to hail in its 75th year of being on the road. That's why Land Rover wants to make a blowout party, and how would they do that? What about a 75th Limited Edition Defender? This limited-edition Defender is ready to make a name for itself, especially with the unique exterior color, the special detailing, and all of the technology you have come to know and love with your Land Rover model. We want to make sure you know all of the latest information on this limited edition, and how it will change your life for the better when you get behind the wheel of one. Land Rover never does anything halfway, and we're so proud of what has been accomplished with this celebratory landmark edition. Are you ready to find out more about this vehicle? Then we recommend continuing reading down below for all of the latest.
Can you tell me about the design of the 75th Limited Edition?
We are more than happy to discuss the unique detailing that comes with the Defender 75th Limited Edition. The interior of this vehicle comes with a Folding Fabric roof, along with 14-way driver and passenger heated electric memory seats. You will also be able to gain a heated steering wheel and tri-zone automatic climate control. That doesn't even touch on the unique design aspects, such as the Grasmere Green color theme throughout the limited edition, which works with complementing wheels and interior finishes to keep the entire theme in line with every other aspect. You'll be getting Cerese Silver colored bumpers and 75 years graphics that mark this occasion and have it stand out from the rest of the lineup. The seats are finished in Resist Ebony, and the center console features Robustec materials.
What engine powers the 75th Limited Edition?
Look, it isn't a discussion on the Defender without a closer look as to what will be powering this limited edition model. Everyone should only expect the best of the best, and we know that this Land Rover is ready to prove why a Defender is never a wrong decision. You'll be able to get the P400 Ingenium gas engine, which utilizes mild hybrid electric technology to give you the best power delivery around while not using up unnecessary amounts of gas. You'll also get the tow hitch receiver with this edition, along with the advanced Off-Road Capability package, which can make every weekend that much more exciting for everyone in your life.
What else is being done for the Defender 75th Limited Edition?
Beyond just providing you with a brand new Defender edition, Land Rover is also providing everyone with the ability to buy lifestyle pieces! This includes a comprehensive set of goods that are also in the iconic Grasmere Green color theme that this edition is giving you. You'll be able to find a functional backpack, your favorite t-shirt, and many more clothing pieces that you can rock to tell everyone just how much you are celebrating.
Buy a New Defender at Land Rover South Dade
We know that every time more limited editions are revealed, they add another level of excitement with models. When you choose Land Rover South Dade as your Land Rover dealership of choice, you'll get all of the options you have been searching for. We have the best inventory of Defender models available, and we want to help you get the right one for your life. We hope that we'll see you soon!